Guillermo Rojas-Bazan & his Hand -Made
Exhibition Airplane Models in Aluminum
By Chuck Austin, Mike Knepper & Ann Cooper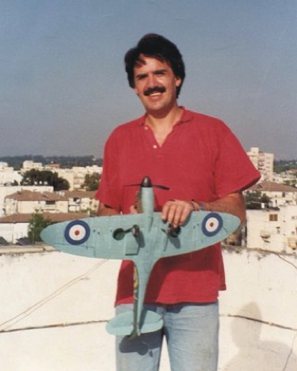 At fifteen years of age, Guillermo´s father was the subject of newspaper stories in Buenos Aires, Argentina, describing his unusual pioneering hobby, building aircraft models of tin plate.
By the time Guillermo was born, his father´s hobby had evolved into a fine art.
Rojas Bazan senior never sold his tin plate aircraft and car models, he build them for the enjoyment of his sons and the children of friends in the community where they lived.
Greatly influenced by his father, Guillermo began building scratch models at a very young age.
When he was eight he decided to build a Martin B-10 which was not available as a kit. Undaunted, eight year-old Guillermo scratch-built the Martin of cardboard. As he grew older, he worked in wood, tin plate, and finally sheet aluminum. It was clear. He had inherited his father´s artistic talents and metal working craftsmanship.
He continued this tradition as a hobby until 1981 when he was hired by the Argentine Air Force and the Instituto Aeronaval (naval aviation) of Argentina where he worked as an aviation illustrator, a technical draftsman and a designer and builder of his unique sheet aluminum scale aircraft replicas for exhibition in the museums where they are still on display. Guillermo´s hobby had now become his profession.